You possess the tactical knowledge to develop game plans that play to your athletes' strengths. Physical strength, dynamic speed and endurance are the subject of debate as your team plots its rise to the top. But how much time do you spend ensuring your athletes are mentally tough?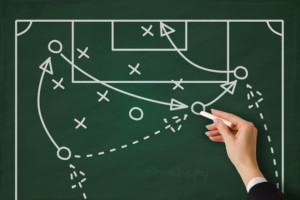 Often, people put too much emphasis on the physical capabilities of an athlete, when it's the mental skills they lack that are holding them back. These skills are critical to an athlete's success and without them, all of the physical training, game plans and state-of-the-art equipment will fail to achieve the results you're aspiring to.
It's almost as though people don't acknowledge the fact that an athlete's mental skills; their resilience, the way they come back from an injury or mistake mid-game,and their self-awarenes are vital to success. Every Coach knows how teams gel when each athlete has the ability to understand and work with other people. These skills are just as important as being able to run fast, step off of both feet, throw a long ball, or whatever physical skill matters in your sport.
Mental toughness is a skill that can be learnt and taught.
Skills like resilience, mindfulness, recovering after setbacks and performing under pressure are trainable and controllable. Athletes can learn these skills and develop their own strategies in a step-by-step program that's delivered in a safe setting without the harsh consequences of real life lessons. When learnt and executed properly, the individual skills each athlete acquires can increase the team's success.
There are strategies you can put in place as a Coach that assist your athletes to improve the mental side of their game. Providing your athletes with the opportunity to learn these skills will enhance their learning environment, improve your team's communication and importantly build your team's culture.
If you want to know more about how to help your athletes learn to take control of the mental side of their sport, you should check out our program – ATHLETE TOUGH. Our Handbook & Video Series was produced by 4 x Olympian and 3 x Olympic Medalist, Bo Hanson to answer the call of Coaches wanting to know how they can build mental toughness in their athletes. We have dedicated an entire program to uncovering the strategies that create and build toughness. For your copy, and 15 chapters full of proven strategies to help your athletes become, and stay, ATHLETE TOUGH, visit this link for more information and to view a sample chapter and video!

Defining resiliency is relatively easy. Simply stated, it's the ability to bounce back positively after a mistake, mishap or loss. In practice, it's the ability
Read More »

"You have to be able to center yourself, to let all of your emotions go. Don't ever forget that you play with your soul as
Read More »

"The ultimate measure of a man is not where he stands in moments of comfort and convenience, but where he stands at times of challenge
Read More »