RESEARCH FROM THE 2012 LONDON OLYMPICS FINDS KEY FACTORS CONTRIBUTING TO SUCCESS AT THE HIGHEST LEVEL
In the lead up to the Tokyo Olympics (now being held in 2021), we have been reflecting on the lessons that emerged from the 2012 London Olympic Games. In particular, the research into consistently successful super athletes and the factors that distinguish them from their elite competition. The results may surprise you!
Quick Facts
Research has categorized someone who achieves multiple Olympic medals at different Games or similar events to be a 'superelite athlete.'
Research findings are a stark contrast to the long-standing views that genetics, equipment, or technology are the distinguishing factors in these superelite athlete performances.
Those with a strong coach-athlete relationship are more likely to feel secure in exploring their roles as an athlete, pushing their boundaries, taking risks to improve performance, and being confident in their ability to give 100% effort.
Research identifies significant differences in the psychological and life histories between superelites and their high-performing counterparts.
Taking a second to look just a few years back to the 2016 Olympic Games in Rio, which hosted a program packed with exciting competitions, athletes at the highest level were divided by the smallest of margins, split seconds, and tight score lines. So many of these Olympic competitors all trained to push the limits of human ability, with access to the latest scientific research, strength and conditioning programs and the best equipment available. For this reason, researchers have sought to determine why superelite athletes can repeatedly rise above the rest, leaving the rest to go home medal-less.
With the goal of finding out what it takes to create multiple Olympic gold medal performances, UK sport, the organization charged with promoting its nation's elite sports and athletic development, commissioned researchers from Bangor University in Wales to find answers. The resulting research was presented at the 2015 World Class Performance Conference in London and later republished in the Scientific American.
During the study both male and female superelite athletes were interviewed and, to the surprise of many, researchers found that the predominant factor in creating multiple gold medal performances was the quality of the coach-athlete relationship.
In response to these findings CEO of Athlete Assessments, Liz Masen draws a direct parallel to the company's founding philosophy that the people side of sports is the defining factor between those who are truly successful in sport, and those who are not.
She further comments that, "We wholeheartedly believe in the coach-athlete relationship and everything we do is in alignment with this idea because for us, it has always been the number one contributing factor to success."
The leader of the aforementioned study and postdoctoral researcher in sport psychology at Bangor, Matthew Barlow, expands on the impact that the coach-athlete relationship has on superelites' success, "Superelites felt that their coaches fully satisfied their emotional needs by acting as friends, mentors, unwavering supporters – in addition to providing superb technical support. High-performing athletes who are not medaled did not feel that way."
He also comments that, "This turns on its head a long-held view that we must simply pair the best technical and tactical coaches to our best athletes to achieve ultimate performance."
Moreover, the study showed that the needs of most elite level athletes are far greater than just technical support.
Researchers initially found 43 variables with a strong correlation to the probability of an athlete becoming superelite. Among these was the coach-athlete relationship, which lead UK Sport to fund a further in-depth analysis that specifically focused on this factor.
This involved conducting in-depth interviews with both male and female athletes who had gold medal performances at major championships (including the Olympics), as well as those who competed in these events but never medaled. Barlow found that all the athletes felt supported by their coaches in the technical elements of their sport, but the superelites also reported experiencing thorough emotional support.
"Superelite athletes perceived their need for emotional and esteem support were met in a way that the elites did not. Coaches of superelites acted almost as surrogate parents, praising their athletes' efforts, emphasizing unwavering belief in them, providing positive feedback and taking an interest in personal lives. They have a bond that goes beyond spreadsheets, power outputs and graphs."
These findings reinforce similar research done in the 2008 Canadian Olympic Study, 'Own the Podium,' lead by Penny Wurther, which interviewed Olympic and Paralympic athletes and coaches. This 2008 study identified the coach-athlete relationship as one of five defining factors contributing to the athletes who delivered personal best or medal winning performances at the Olympic Games.
 The Scientific American provides the insight that until recently, UK Sport matched coaches with athletes solely on an athlete's ability and a coach's history of success. However, with these new findings, the organization is now collaborating with Barlow and his associates to devise a new method that accounts for the broader coach-athlete relationship.
Coaches can now use Barlow's research as the foundations to start fostering stronger coach-athlete relationships, beginning with the development of their own self-awareness. One of the most proven and efficient methods to achieving greater self-awareness for a coach is Athlete Assessments' CoachDISC Profile.
The primary purpose of DISC Profiling is to develop greater self-awareness, providing a framework to understand, then build effective relationships with others. As Joe Gibbs said: "You don't win with X's and O's. What you win with is people." DISC Profiling is the fastest and most effective way to develop the 'people side' of your sport.
WHERE TO FROM HERE?
Find out more about how you can use DISC Profiling to get the results you want. Bo Hanson, Author of ATHLTE TOUGH™, is also the founder of Athlete Assessments which specializes in helping coaches, athletes, and sport professionals achieve their best potential and create winning outcomes.
We're here to provide you with excellence in service and to help you be your best. If there is anything we can do to be of service, don't hesitate to contact us.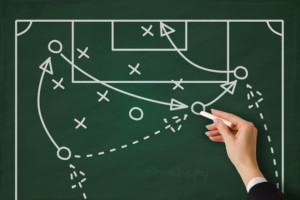 You possess the tactical knowledge to develop game plans that play to your athletes' strengths. Physical strength, dynamic speed and endurance are the subject of debate as your team plots its rise to the top. But how much time do you spend ensuring your athletes are mentally tough?
Read More »

Defining resiliency is relatively easy. Simply stated, it's the ability to bounce back positively after a mistake, mishap or loss. In practice, it's the ability
Read More »

"You have to be able to center yourself, to let all of your emotions go. Don't ever forget that you play with your soul as
Read More »